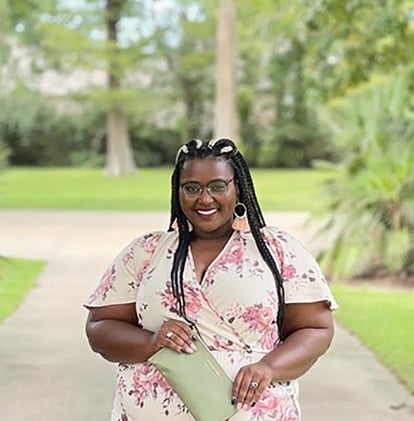 I absolutely loved the Lincoln Memorial Admissions Boot camp!
I found out about the camp over the summer from Dr. Denise Terese-Koch, Dean of LMU College of Dental Medicine. I expressed interest in applying for a Fall 2022 admission and she recommended it so that I could get a feel of the university as well as learn from some really talented dental professionals! I was mostly interested in attending the boot camp because of classes and techniques provided to prepare us for the courses during our four years of dental school.

When I arrived I was more than pleased with the curriculum they laid out for us. We were given access to online courses and simulations that helped us to get a grasp on dental terminology, dental anatomy, hygiene and so much more. During the camp we were able to speak directly to the doctors who created Promethean Dental Systems and received their input on study habits, interviewing, and dental school as a whole.

After the courses were completed for each day we were able to practice our manual dexterity skills on a piece of technology called the Simodont Dental Trainer. A revolutionary tool in improving hand skills and developing coordination, the Simodont was able to give us a realistic feel of using the dental instruments as well as test our abilities to keep a steady hand and pressure. I surprised myself with how quickly I was able to grasp the skill and by the 4th day, I developed the muscle memory to help improve my scores and complete tests with 95% accuracy! I have been to other dental boot camps in the past and have had the opportunity to try soap and chalk carving but I never felt like it prepared me to hold instruments or to feel the difference in surfaces on the tooth. The Simodont gave me an expedited learning experience and I am grateful to have worked with the Promethean team to do so!

The best part of the camp was being able to sit down with faculty and staff of Promethean Dental Systems and LMU. The week went by quickly and it felt like a blur, but these people made a lasting impression. Lincoln Memorial in partnership with PDS is giving the class of 2026 so many opportunities to change the way dentists are educated. By getting to know the Dean of the program and the dental hygiene director I felt more comfortable in joining the program knowing that these two women-along with their entire staff-would have our absolute best interests in mind when creating a curriculum and an innovative learning environment.

I highly recommend the PDS/LMU Admissions Bootcamp for any student preparing to apply for dental school, anyone interested in applying to Lincoln Memorial or anyone looking to for an upbeat, innovative learning experience. You will not be disappointed!