What Makes SRTA Different
SRTA Exams Are Accepted In More Than 75% Of The U.S.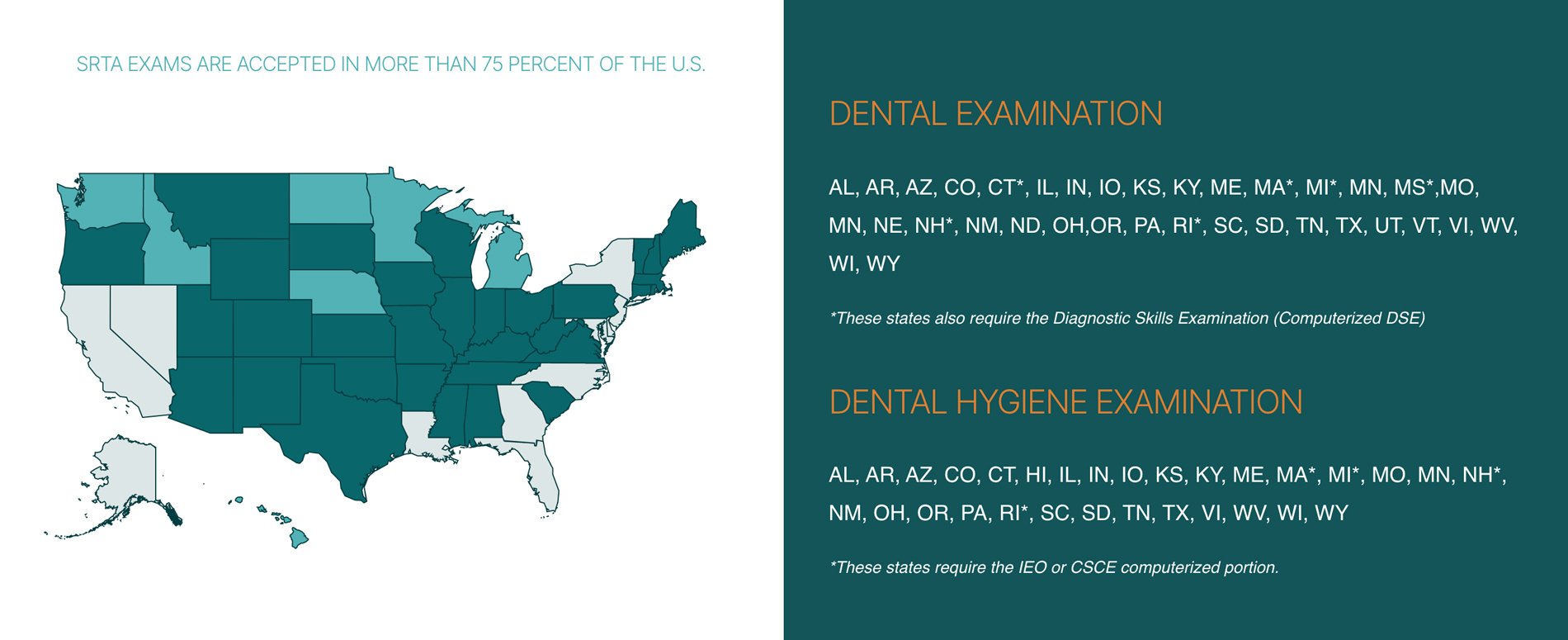 The Multimodal Examination is the Future of Licensure Examinations
The multimodal examination combines the Simodont Dental Trainer, the Manikin and Digital Dentistry. The Simodont Dental Trainer simulates the patient with incredible dental fidelity and automatically grades the examination as you complete the procedure. We use the Simodont Dental Trainer for all subtractive procedures. We combine the Simodont Dental Trainer with the Manikin to perform all additive procedures, thus providing multiple modes of testing a candidate's performance. All Manikin procedures are graded using intraoral scanners and machine grading software, so all grading is objective and fair to the candidate. SRTA and Promethean Dental Systems will focus on our goal of evolving the licensure examination. Learn more about the Multimodal Licensure Examination below, by watching the video interview with Dr. Mary Stanley, the first licensed dentists on a Multimodal Licensure Examination.
Most supplies are provided for licensure examinations, but some candidates choose to rent instruments and equipment. Please select items you wish to rent for your licensure examination at our PDS locations and place your order with Scheduling using the form at the bottom of this page!
Read What Licensure Examination Customers Are Saying
As much as human graders try to be objective, they have their biases on what they like to see in a preparation…a computer based system that removes their opinions is important. Promethean Dental Systems removed all the stress associated with the licensure examination. I only had to be concerned with myself in my preparations for the licensure examination.
What a wonderful testing experience. I was able to schedule a time that was convenient for me, perform in a private operatory, and get an objective grade for each portion of the licensure examination. Promethean Dental Systems made the process of my exam super smooth and stress free.