Patient-Less Simulation Provides Unlimited Practice, Practice Makes Elite Dental Performance
Promethean Dental Systems integrates five modes of learning into a multitude of different configurations to deliver Patient-Less Simulation. We deliver three outcomes via Patient-Less Simulation: 1) Skill Building for Quality, 2) Repetition Boosting for Muscle Memory, and 3) End to End Workflow Simulation for Experience and Efficiency. Dental educators, students, licensed professionals, and regulators can be concerned about the introduction of new technologies into dental education and assessment. However, these concerns are primarily focused on that fact that Skill-Building modes exist and are reliable like didactic courses and typodonts. However, these methods are primarily used through the D2 year of dental school, only. When students start working with patients, the focus on practice seems to end. What other profession, that requires the quality, muscle memory, experience and efficiency, does not have regular practice to maintain and improve performance. Promethean Dental Systems delivers dental education by all five modes of learning to achieve the goal of developing elite dental performance.
The Five Modes of Learning
The Dental Industry's oldest and most leveraged mode of learning, Didactic Courses are provided via Live Events, Live Lectures, and Online Courses via the Promethean Dental Systems online learning system. All courses include both formative and summative assessments that provide evidence of completion and evidence of performance. Course are grouped by categories, like Pre-Admissions, International Dentist, Compliance, Clinical, Practice Management, Technology.
Dental Educators have used simulators for over a century for the development of the dental and dental hygienist delivery skills necessary for treating patients. The first simulators came into use in 1894 and have become standard in dental education. The simulators use a "phantom head" and typodont with plastic teeth of various material composure and are used by a student to practice and demonstrate competence. As one of our primary clinical simulation modes of learning, the Typodont / Manikin complements the Simodont.
As technology evolved, the opportunity to enhance simulation using computer technology became practical. Virtual reality environments became possible, along with haptics. Simulators using virtual haptics have been used in health care education since the 1990s and have become commonplace. In dentistry, the past two decades have had technological evolution in virtual haptic simulators. A strong stream of research already exists which demonstrates the utility of virtual, haptic simulation in dental education.
As the other primary clinical simulation modes of learning, the Simodont complements the
Typodont / Manikin.
Technology provides the ability to see the end at the beginning. Technology provides predictability. When you have a plan, it is predictable. Digital Dentistry is an integral mode of learning. Leveraging the use of both analog and digital fabrication to plan and provide the optimum care for the patient. If you narrow your tool belt, you narrow the options for your patients. Therefore we explore a multitude of products, product integration, and provide support guides for digital acquisition, digital design and digital manufacturing.
Dental Software has been used for many years in dental practices. However, these tools have expanded and when integrated provide insights, analytics, and enable speed and accuracy. In this mode of learning, we focus on maximizing the use of software tools and how they integrate to provide end to end workflow management and efficiency for the dental practice. From patient management systems to digital dashboards, using Dental Software is critical to dental practice planning and measuring performance.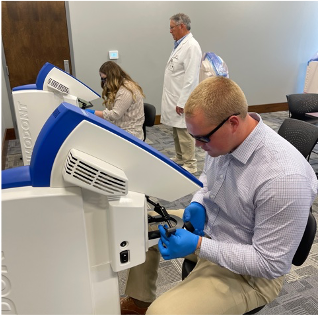 Research on the Simodont Dental Trainer
At Promethean Dental Systems, we partner with Kilgore International and Nissin Dental and the proven technology of the Simodont Dental Trainer. The Simodont was introduced to the market in 2009 as a product developed in the Netherlands by a company named Moog and its partner in the project ACTA (Academic Centre Dentistry Amsterdam). Now owned by Nissin Dental, many experts consider the Simodont the leading advanced dental simulator in the world.

Skepticism to change or adopt new technology is fueled primarily by a lack of understanding, public misinformation and personal agendas. Promethean Dental Systems has compiled a research library that proves the Simodont should be in simulation labs beside the Manikin. Together they can elevate dental education as a part of a multimodal learning approach that increases the pace and depth of learning, while providing fair standards, objective assessments, real-time access to data and analytics.
A Sample of Research Articles on the Simodont